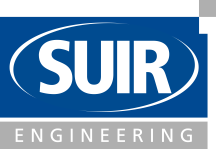 Logistics/Travel Coordinator - Suir Engineering Ltd
Gavle, GVBG
Suir Engineering are currently looking for a Logistics/Travel Coordinator to join our team in Gavle Sweden on a data centre project.

** Please apply with an English version of your Cv through the below link **

https://app.occupop.com/shared/job/logistics-coordinator-gavle-sweden-Tol3/
About Us
Suir Engineering has over 35 years of mechanical, electrical and instrumentation (M,E&I) expertise, with a directly employed workforce of more than 1000 people and in the region of €160 million revenue annually – it has offices in Dublin, Waterford, London & Stockholm.
Suir Engineering operates in the following sectors: data centres, energy & utilities, pharmaceutical, food and beverage, and renewable energy. Although its primary focus is on the Irish market, Suir Engineering is delivering successful M,E&I projects in Europe.
Overall Role Objective
The Logistics/Travel Coordinator is responsible for ensuring project success by ensuring the project is fully set up and operationally ready, in the selected country. They are the main point of contact on the ground prior to and during the construction and the main local point of contact for employees.
Key Responsibilities/Duties
Work with the Project Director to understand the project overall logistic requirements.
Ensure the project meets its logistic budget requirements.
Source local suppliers and sub-contractors with a view to identifying how they can work with Suir Engineering on international projects.
Meet with local labour relations authorities and become familiar with local rules and regulations in order to facilitate the smooth transfer of resources between projects.
Source and secure suitable local accommodation.
Assist with the mobilisation of site offices, stores and overall compound set up/de-commissioning.
Liaise with the Suir Procurement/Estimating departments for approval prior to securing agreements.
Be familiar with local public transport systems with a view to organising transfers for employees.
Be familiar with local hospitals/doctors/dentists and other medical emergency centres.
Liaise with local vehicle rental companies to organise car/van rental packages.
Work with local municipality representatives to create welcome packs for employees.
Assist with integration of employees into the local community.
Liaise with the Business Development and Construction Teams and taking instruction from them.
Assist with the booking of flights/other transport as required.
Represent the company at local industry events.
The successful candidate must:
Have a minimum of 2 years administration/coordination experience.
Have experience in a similar role
Have attention to detail essential.
Have the ability to work on own initiative.
Have good time management skills.
Be proficient in Excel, Word, Outlook, Internet and Adobe Acrobat Pro DC.
Be willing to work 50 - 55 Hours per week
Ability to speak Swedish and English Fluently
Benefits of Working with Suir Engineering
Please apply with your Cv translated to English.