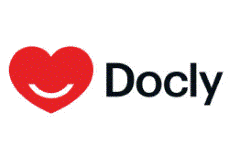 Privacy Officer - Docly Healthcare AB
Malmö, SKÅ 21112
Privacy Officer to Docly
Do you want to be part of making digital healthcare accessible to the world?
If you as we, believe that the key to a successful business is talented people, working together in an inspirational environment, with a challenging and fun job, developing a product and a service that makes a difference in people's everyday life - we have the job for you! 
At Docly privacy matters and this is a unique opportunity to be part of an amazing journey.
We are now looking for a Privacy Officer!
What you will do:
In the role as Privacy Officer you will work closely with teams across Docly to further develop, implement and follow up our privacy work. You will do this together with your colleagues in the Legal and Compliance team by using your privacy expertise in an international organization where compliance is taken seriously.
You will drive the privacy agenda, organize the privacy work in Docly and act as first line of support dealing with privacy queries, support requests and the investigations of privacy incidents.
In this role you will report to the Head of Legal and Compliance.
Areas
of 
r
esponsibiliti
y
: 
Inform, advise and co-ordinate GDPR activities

in the company

Monitor compliance with GDPR and report such compliance to

Docly 

mangement

Continue to develop, implement and enforce a suitable and relevant data policy and ensure it is reviewed on an annual basis

Continue to develop, implement and enforce a suitable and relevant data policy and ensure that third parties which the organization deals with comply with the necessary practices and agreements held

Provide information and guidance on the processing of all personal data

Be contact person and work with to process, co-ordinate and respond to all requests for information

Maintain the

Docly

register of data owners for sets of information and educate the data owners on their responsibilities (what is data, how is it used, who has access to it)

Maintain the

Docly

data inventories and data flow maps as necessary

Undertake and organize systematic data protection compliance audits in accordance with GDPR

Lead and assist with investigations into complaints and reports about breaches of the act and undertake reporting/remedial action as required.

Maintain a log of any incidents and remedial recommendations and actions

Interpret and provide guidance to the organization on forthcoming and actual changes to relevant legislation on GDPR and other global privacy mandates

Promote data protection awareness throughout the organization by providing training and written procedures that are widely disseminated and made available to all staff and branch officials

Maintain the Privacy Impact Assessment

template, draft and p

rovide advice in relation to data protection impact assessments

Co-operate

and act as contact person for

the

relevant

supervisory authorit

ies

Monitor privacy laws globally with particular focus on Sweden and UK.
Who are you then?
We believe that you are motivated by proactive work together with our business areas and group functions, and by finding ways to present and finding understanding for GDPR.

Privacy is in a cross field between legal, IT/digital and process management/auditing. For this role you need at least one, preferably more, of those competencies. The ideal candidate has a degree in privacy, legal, IT, auditing, process management or equivalent or at least 2 years' experience with privacy programs. Furthermore, we expect that you
 
Speak

Swedish and English fluen

tly

Have strong administrative skills

Have experience

of European data protection laws and practices, particularly GDPR

Have experience with training on all levels of an organization

Have a good

knowledge of IT systems, processes, and information security practices

Have the a

bility to communicate with internal stakeholders, data protection authorities, and customers
Have a s

elling approach regarding Data Protection

Analytical strength and ability to use that strength in risk management processes and control framework

Are e

xcellent in building relations and in communicating complex and technical issues to all levels within an organization
In this role we are looking for a team player with integrity. You are structured, analytical with a good ability to work with others in teams. If you find energy in change, are open minded and like being given responsibility, maybe this position is the one for you.
Placement: Headquarter in Malmö. International travel depending on your own preferences and willingness to adapt the role.
How to apply
Please send your CV and cover letter no later than June 30th 2019 to Diana Melander, Head of Legal and Compliance, diana.melander@docly.com.  If you have any questions, you are welcome to contact Diana.
We are looking forward to hearing from you!
About Docly
Docly Healthcare AB is a subsidiary to Docly International AB. Docly develops and supports a medical technical platform provided to online doctor services such as Min Doktor. Also, Docly offers medical consultations onlineon certain markets. Our service provides instant access to medical consultations through an app, wherever and whenever the patient needs it. The service also optimizes the doctor's time through the use of structured data collection, algorithm driven decision support and asynchronous communication with the patient.
We all share a strong sense of purpose and we believe in that we are making a difference in people's everyday life through our healthcare service. We are a team of passionate professionals - from healthcare professionals to engineers, designers and business developers – working closely together, challenging each other in what to do and how to do it. We are a European company as we are located in Sweden and UK. We move fast, we learn from each other and we are proud of the great things we achieve together.
Welcome to join us on our amazing journey!